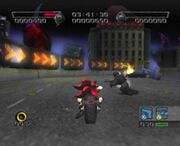 Lethal Highway is the second level if choose Hero mission in westopolis.
The Co-op is Sonic the Hedgehog. Thus,it is the first level in the game where you find all three vehicles:
GUN bike
Corvette
GUN Truck
Dark:Head for the goal
Neutral:non
Hero: Destroy the black arms tank.
Ad blocker interference detected!
Wikia is a free-to-use site that makes money from advertising. We have a modified experience for viewers using ad blockers

Wikia is not accessible if you've made further modifications. Remove the custom ad blocker rule(s) and the page will load as expected.